Free up space in your workshop and reduce setup times with A.W.T.'s Frame-Mate™, the handy solution for storing and transporting large, heavy, or bulky screen frames, pallets, or any rigid part or substrate.

Built of durable steel and equipped with heavy-duty swivel casters, this mobile rack can handle wood, aluminum, or roller frames up to 50 x 60� (127 x 152 cm) O.D., or even larger, depending on the shape.

Use the Frame-Mate for post-curing storage of POP displays and other rigid substrates, increasing efficiency in your workshop. The Frame-Mate is also an excellent choice for storing pallets and pallet attachments.
Standard Features
All-steel construction
Heavy-duty swivel casters provide easy mobility
Store and move frames, pallets, or any rigid panel or substrate
Wood, aluminum, or roller frames
Easy access to the heaviest frames
Free up shop floor space
Improve setup times
Two models available
Options and Accessories
4� heavy-duty casters
Custom sizes available
Frame-Mate Model has 1 model
user_priv =
1 of 1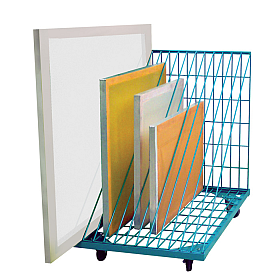 RF-5060
Product Description
Brand
Description
In Stock
AWT
FRAME-MATE MOBILE FRAME RACK WITH 12 DIVIDERS, 2" (5CM)SPACING BETWEEN DIVIDERS
Shipping Description
Number of Shelves
N/A
Shelf size
N/A
Base & Upright (LxWxH)
N/A
Total shipping weight / # of pieces
149.00 lbs
67.59 kg
Shipping dimensions (LxWxH)
48.00" x 40.00" x 54.00"
121.92cm x 101.6cm x 137.16cm
Shipping service
Parcel