SPECIALTY™ MODELS

Where space may be limited, Specialty Drying and Storage Racks from A.W.T .World Trade, Inc. provide an affordable, efficient solution to your drying and storage needs. From storing classroom artwork to drying prints in your workshop or studio, A.W.T. racks are versatile and durable. Use them as screen printing racks, storage racks, poster racks, print racks, or as drying and storage carts for frames or stock.

Our DR-18 series of specialty drying and storage racks features a wide range of options and sizes from 30-100 shelves and is ideal for drying or storing prints, paintings, or other flat substrates.

Featuring all-steel construction, a rust-resistant powder coated finish, and a variety of shelving options, A.W.T.'s DR-18 specialty drying and storage racks are available in a wide range of models to help you optimize your working environment.

With so many different configurations to choose from, there is certain to be an A.W.T. Specialty Drying and Storage Rack that is perfectly suited to your specific application and working environment.

Standard Features
All-steel construction
Powder-coated, rust-resistant shelves
Door- or wall-mount, tabletop, and portable models
Ships via ground parcel service
Options and Accessories
Double sided tabletop model
Portable model with swivel casters
Speciality Model has 5 models
1 of 5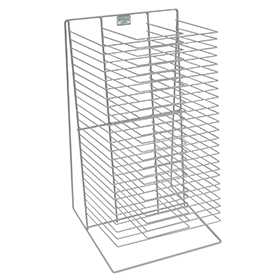 DR-16-25
Product Description
Brand
Description
In Stock
AWT
RACK-IT TABLE TOP SINGLE SIDED 25 SHELVES 12"x16" SHELF SIZE
Shipping Description
Number of Shelves
25
Shelf size
12.00" x 16.00"
30.48cm x 40.64cm
Base & Upright (LxWxH)
N/A
Total shipping weight / # of pieces
21.00 lbs
9.53 kg
Shipping dimensions (LxWxH)
31.00" x 18.00" x 19.00"
78.74cm x 45.72cm x 48.26cm
Shipping service
Parcel
2 of 5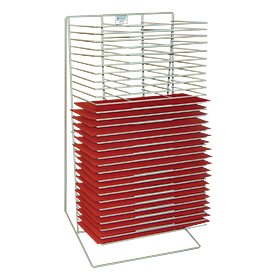 DR-18-30
Product Description
Brand
Description
In Stock
AWT
RACK-IT TABLE TOP SINGLE SIDED 30 SHELVES 12"x 18" SHELF SIZE
Shipping Description
Number of Shelves
30
Shelf size
12.00" x 18.00"
30.48cm x 45.72cm
Base & Upright (LxWxH)
N/A
Total shipping weight / # of pieces
26.00 lbs
11.79 kg
Shipping dimensions (LxWxH)
37.00" x 21.00" x 20.00"
93.98cm x 53.34cm x 50.8cm
Shipping service
Parcel
3 of 5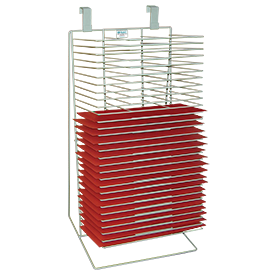 DR-18-30WD
Product Description
Brand
Description
In Stock
AWT
RACK-IT WALL/DOOR UNIT 30 SHELVES, 12"X18" SHELF SIZE, WITH MOUNTING HARDWARE
Shipping Description
Number of Shelves
30
Shelf size
12.00" x 18.00"
30.48cm x 45.72cm
Base & Upright (LxWxH)
N/A
Total shipping weight / # of pieces
26.00 lbs
11.79 kg
Shipping dimensions (LxWxH)
37.00" x 21.00" x 20.00"
93.98cm x 53.34cm x 50.8cm
Shipping service
Parcel
4 of 5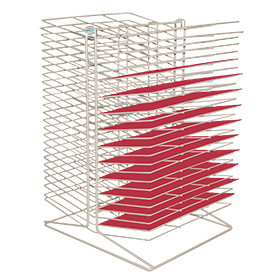 DR-18-50
Product Description
Brand
Description
In Stock
AWT
RACK-IT TABLE-TOP DOUBLE SIDED 50 SHELVES 10" X 18" SHELF SIZE
Shipping Description
Number of Shelves
50
Shelf size
10.00" x 18.00"
25.4cm x 45.72cm
Base & Upright (LxWxH)
N/A
Total shipping weight / # of pieces
33.00 lbs
14.97 kg
Shipping dimensions (LxWxH)
36.00" x 23.00" x 20.00"
91.44cm x 58.42cm x 50.8cm
Shipping service
Parcel
5 of 5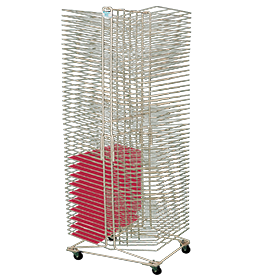 DR-18-100
Product Description
Brand
Description
In Stock
AWT
RACK-IT PORTABLE MODEL 100 SHELVES, 10" X 18" SHELF SIZE
Shipping Description
Number of Shelves
100
Shelf size
10.00" x 18.00"
25.4cm x 45.72cm
Base & Upright (LxWxH)
N/A
Total shipping weight / # of pieces
68.00 lbs
30.84 kg
Shipping dimensions (LxWxH)
37.00" x 23.00" x 20.00"
93.98cm x 58.42cm x 50.8cm
Shipping service
Parcel