HEAVY-DUTY MODELS - 1" SPACING

AWT's Rack-It Heavy-Duty Drying and Storage Racks represent the practical application of decades of industry expertise. Built on a welded steel frame, these racks provide safe and secure storage for drying or transporting substrates in industrial and production environments. These durable and versatile mobile racks are widely used as screen printing racks, screen frame storage racks, poster drying racks, print racks, or as drying and storage carts for frames or stock.

We use steel bumpers because they outlast rubber, and we weld them to the outside of the shelf so you have more total drying room. Each shelf spring is individually adjustable so you can easily control up/down operation.

To facilitate quick evaporation, these heavy-duty racks come with non-warping shelves spaced at 1" intervals. The powder-coated shelf finish is rust- and solvent-resistant for years of service. For baking applications, heat-resistant models are available.

Drying and storage racks are an indispensable organizational tool for drying, storing and moving screens, prints, and other flat substrates. Contact AWT today to learn how our Heavy-Duty Rack-It Series can help you to improve production efficiency and stay on budget.

Standard Features
Sheet Sizes Up To 52" x 80" (132 x 203 cm)
Welded steel frame and heavy-duty construction
Rust resistant, non-warping, powder-coated shelves
Easy pivot shelf operation
Adjustable individual shelf tension
Steel backstops prevent stock from sliding off shelves
Optimum shelf spacing for efficient solvent evaporation
Permanent steel bumpers
Outside bumper position allows full use of shelf capacity
Heavy-duty casters for easy mobility
Options and Accessories
Extra welded center metal bumpers for models DR-32-40 through DR-68-50
Heat-resistant models available
Shelf extenders
Rack assembly
Heavy Duty Model has 11 models
user_priv =
1 of 11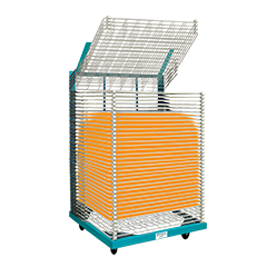 DR-32-40
Product Description
Brand
Description
In Stock
AWT
RACK-IT ALL STEEL HEAVY CONSTRUCTION, 40 SHELVES 22 X 32" SHELF SIZE
Shipping Description
Number of Shelves
40
Shelf size
22.00" x 32.00"
55.88cm x 81.28cm
Base & Upright (LxWxH)
N/A
Total shipping weight / # of pieces
300.00 lbs
136.08 kg
Shipping dimensions (LxWxH)
48.00" x 40.00" x 53.00"
121.92cm x 101.6cm x 134.62cm
Shipping service
LTL
2 of 11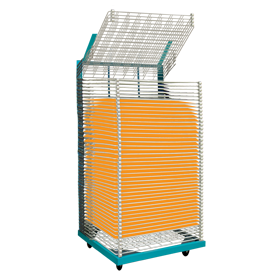 DR-32-50
Product Description
Brand
Description
In Stock
AWT
RACK-IT ALL STEEL HEAVY CONSTRUCTION, 50 SHELVES 22 X 32" SHELF SIZE
Shipping Description
Number of Shelves
50
Shelf size
22.00" x 32.00"
55.88cm x 81.28cm
Base & Upright (LxWxH)
N/A
Total shipping weight / # of pieces
345.00 lbs
156.49 kg
Shipping dimensions (LxWxH)
48.00" x 40.00" x 64.00"
121.92cm x 101.6cm x 162.56cm
Shipping service
LTL
3 of 11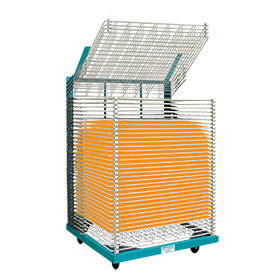 DR-36-40
Product Description
Brand
Description
In Stock
AWT
RACK-IT ALL STEEL HEAVY CONSTRUCTION, 40 SHELVES 26X36" (64X941CM) SIZE
Shipping Description
Number of Shelves
40
Shelf size
26.00" x 36.00"
66.04cm x 91.44cm
Base & Upright (LxWxH)
40.00" x 7.00" x 49.00"
101.6cm x 17.78cm x 124.46cm

Total shipping weight / # of pieces
333.00 lbs
151.05 kg
Shipping dimensions (LxWxH)
48.00" x 40.00" x 53.00"
121.92cm x 101.6cm x 134.62cm
Shipping service
LTL
4 of 11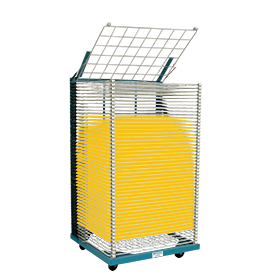 DR-36-50
Product Description
Brand
Description
In Stock
AWT
RACK-IT ALL-STEEL HEAVY CONSTRUCTION, 50 SHELVES 26X36" (64X941CM) SIZE
Shipping Description
Number of Shelves
50
Shelf size
26.00" x 36.00"
66.04cm x 91.44cm
Base & Upright (LxWxH)
40.00" x 7.00" x 59.00"
101.6cm x 17.78cm x 149.86cm

Total shipping weight / # of pieces
393.00 lbs
178.26 kg
Shipping dimensions (LxWxH)
48.00" x 40.00" x 51.00"
121.92cm x 101.6cm x 129.54cm
Shipping service
LTL
5 of 11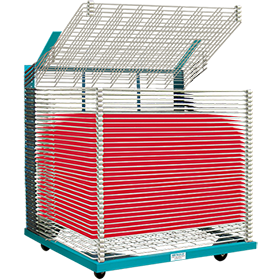 DR-46-40
Product Description
Brand
Description
In Stock
AWT
RACK-IT LIGHTWEIGHT ALL STEEL MODEL 40 SHELVES 30" X 46" SHELF SIZE
Shipping Description
Number of Shelves
40
Shelf size
30.00" x 46.00"
76.2cm x 116.84cm
Base & Upright (LxWxH)
50.00" x 7.00" x 49.00"
127cm x 17.78cm x 124.46cm

Total shipping weight / # of pieces
376.00 lbs
170.55 kg
Shipping dimensions (LxWxH)
53.00" x 53.00" x 44.00"
134.62cm x 134.62cm x 111.76cm
Shipping service
LTL
6 of 11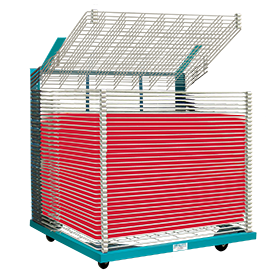 DR-48-40
Product Description
Brand
Description
In Stock
AWT
RACK-IT ALL-STEEL HEAVY CONSTRUCTION, 40 SHELVES 31" X 48" (79 X 122CM) SIZE
Shipping Description
Number of Shelves
40
Shelf size
31.00" x 48.00"
78.74cm x 121.92cm
Base & Upright (LxWxH)
52.00" x 7.00" x 49.00"
132.08cm x 17.78cm x 124.46cm

Total shipping weight / # of pieces
427.00 lbs
193.68 kg
Shipping dimensions (LxWxH)
53.00" x 52.00" x 54.00"
134.62cm x 132.08cm x 137.16cm
Shipping service
LTL
7 of 11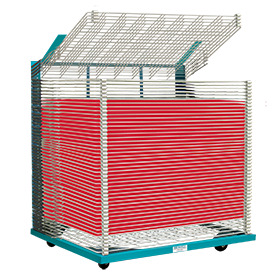 DR-48-50
Product Description
Brand
Description
In Stock
AWT
RACK-IT ALL-STEEL HEAVY CONSTRUCTION, 50 SHELVES 31" X 48" (79 X 122CM) SIZE
Shipping Description
Number of Shelves
50
Shelf size
31.00" x 48.00"
78.74cm x 121.92cm
Base & Upright (LxWxH)
52.00" x 7.00" x 49.00"
132.08cm x 17.78cm x 124.46cm

Total shipping weight / # of pieces
489.00 lbs
221.81 kg
Shipping dimensions (LxWxH)
53.00" x 38.00" x 51.00"
134.62cm x 96.52cm x 129.54cm
Shipping service
LTL
8 of 11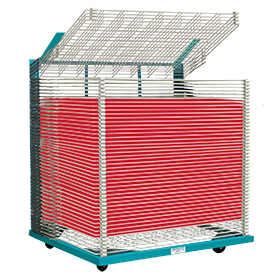 DR-50-50
Product Description
Brand
Description
In Stock
AWT
RACK-IT ALL-STEEL HEAVY CONSTRUCTION 50-SHELVES 37" X 50" (94 X 127CM)
Shipping Description
Number of Shelves
50
Shelf size
37.00" x 50.00"
93.98cm x 127cm
Base & Upright (LxWxH)
54.00" x 7.00" x 59.00"
137.16cm x 17.78cm x 149.86cm

Total shipping weight / # of pieces
590.00 lbs
267.62 kg
Shipping dimensions (LxWxH)
59.00" x 53.00" x 47.00"
149.86cm x 134.62cm x 119.38cm
Shipping service
LTL
9 of 11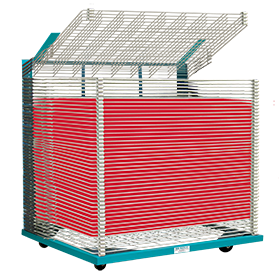 DR-55-50
Product Description
Brand
Description
In Stock
AWT
RACK-IT ALL-STEEL HEAVY CONSTRUCTION 50 SHELVES 42" X 55" (107 X 140CM)
Shipping Description
Number of Shelves
50
Shelf size
42.00" x 55.00"
106.68cm x 139.7cm
Base & Upright (LxWxH)
59.00" x 7.00" x 59.00"
149.86cm x 17.78cm x 149.86cm

Total shipping weight / # of pieces
618.00 lbs
280.32 kg
Shipping dimensions (LxWxH)
60.00" x 55.00" x 64.00"
152.4cm x 139.7cm x 162.56cm
Shipping service
LTL
10 of 11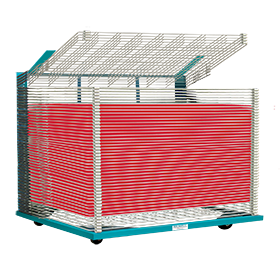 DR-68-50
Product Description
Brand
Description
In Stock
AWT
RACK-IT ALL-STEEL HEAVY CONSTRUCTION 50 SHELVES 45" X 68" (114 X 173 CM) SHELF SIZE
Shipping Description
Number of Shelves
50
Shelf size
45.00" x 68.00"
114.3cm x 172.72cm
Base & Upright (LxWxH)
572.00" x 7.00" x 59.00"
1452.88cm x 17.78cm x 149.86cm

Total shipping weight / # of pieces
933.00 lbs
423.20 kg
Shipping dimensions (LxWxH)
73.00" x 51.00" x 51.00"
185.42cm x 129.54cm x 129.54cm
Shipping service
LTL
11 of 11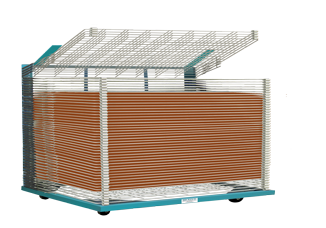 DR-80-50
Product Description
Brand
Description
In Stock
AWT
RACK-IT ALL-STEEL HEAVY CONSTRUCTION, 50 SHELVES 52" X 80" (132 X 203CM) SHELF SIZE
Shipping Description
Number of Shelves
50
Shelf size
52.00" x 80.00"
132.08cm x 203.2cm
Base & Upright (LxWxH)
84.00" x 7.00" x 59.00"
213.36cm x 17.78cm x 149.86cm

Total shipping weight / # of pieces
1,158.00 lbs
525.26 kg
Shipping dimensions (LxWxH)
91.00" x 63.00" x 43.00"
231.14cm x 160.02cm x 109.22cm
Shipping service
LTL