The Saturn Versa-Rack™ drying and storage rack is perfect for silk screen print frames, stretched canvasses, canvas boards, cardboard, heavy felt, construction paper, poster board and much more. Use the Versa-Rack where workshop space may not accommodate standard screen printing drying and storage racks.

The tabletop model features eight shelves capable of holding screen printing frames, printed substrates, or posters up to about 12 x 18" (30x35 cm) with a 3" clearance. The floor model features 13 shelves and includes convenient casters that permit easy tilt-and-wheel mobility for use as a mobile screen rack or rolling screen cart.

Specially designed so you can set it on a table or floor in any position to accommodate your needs, the Versa-Rack has hundreds of uses as a screen print rack or for drying and storage of rigid or semi-rigid objects.

Standard Features
Lightweight and portable
Sturdy all-metal construction
Store rigid or semi-rigid objects up to 12 x 18" (30x35 cm)
Designed for vertical or horizontal placement
Available in tabletop model or floor model with casters
Ideal for classroom, workshop, studio, home, or office
Options and Accessories
Two models available
Spare parts and components
Versa-Rack has 2 models
1 of 2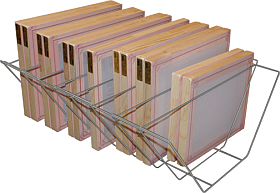 DR-16-8
Product Description
Brand
Description
In Stock
AWT
VERSA RACK TABLE-TOP 8 SHELVES, 12" X 18" (30.48cm x 45.72cm) SHELF SIZE
Shipping Description
Number of Shelves
8
Shelf size
12.00" x 18.00"
30.48cm x 45.72cm
Base & Upright (LxWxH)
N/A
Total shipping weight / # of pieces
5.00 lbs
2.27 kg
Shipping dimensions (LxWxH)
22.00" x 9.00" x 25.00"
55.88cm x 22.86cm x 63.5cm
Shipping service
Parcel
2 of 2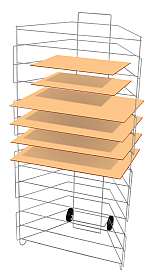 DR-16-13
Product Description
Brand
Description
In Stock
AWT
RACK-IT TABLE TOP SINGLE SIDED 25 SHELVES 12"x16" SHELF SIZE
Shipping Description
Number of Shelves
13
Shelf size
12.00" x 18.00"
30.48cm x 45.72cm
Base & Upright (LxWxH)
N/A
Total shipping weight / # of pieces
9.40 lbs
4.26 kg
Shipping dimensions (LxWxH)
22.00" x 14.00" x 44.00"
55.88cm x 35.56cm x 111.76cm
Shipping service
Parcel